Psalm 83: The Six-Day War
In recent years some famous Bible scholars have popularized the belief that the Psalm 83 War is yet to occur and will shortly precede the War of Gog and Magog (Ezekiel 38). While this theory explains some of the pieces of the puzzle, such as why the nations listed in Psalm 83 are not mentioned in Ezekiel 38, it has at least one glaring problem: the geopolitical scene is not, at least right now, aligned in such a way for the Psalm 83 War to occur. Egypt and Jordan are both at peace with Israel and are in fact militarily and politically at enmity with Syria, Hamas, and Hezbollah, among other nations and groups in the Middle East.
The aim of this article is not to disparage the future Psalm 83 War theory - it is still a viable possibility. The aim of this article is to present an alternative possibility: what if the Psalm 83 War occurred in 1967? And if it did, how much closer must we be to other key prophetic events like the rapture and second coming?
First, I want to address an argument that is often leveled against Bill Salus' Psalm 83 theory. Some people have argued that Psalm 83 is not a prophecy, but was merely a prayer, and therefore there need be no actual prophetic fulfillment.
I have to agree with Salus on this issue. The Psalms are prophetic in nature according to Jesus (Luke 24:44) and the details of Psalm 83 are very specific. Suggesting this Psalm is merely a prayer detached from reality is to make the text devoid of any meaning or legitimacy.
Second, I want to point out that Israel has been invaded by Canaanites, Egyptians, Assyrians, Babylonians, Greeks, Romans, Muslims, Crusaders, and the British, but never the specific confederation of nations found in Psalm 83 - that is until 1967.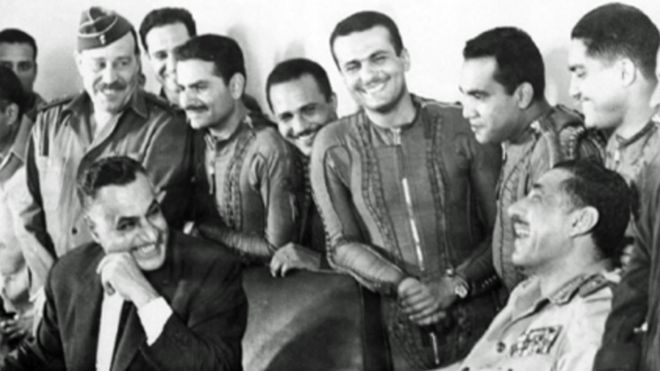 O God, do not remain silent;
do not turn a deaf ear,
do not stand aloof, O God.
See how your enemies growl,
how your foes rear their heads.
With cunning they conspire against your people;
they plot against those you cherish.
"Come," they say, "let us destroy them as a nation,
so that Israel's name is remembered no more."

With one mind they plot together;
they form an alliance against you—
- Psalm 83:1-5
In Psalm 83 the enemies of God plot to destroy Israel and the reason given is "so that Israel's name is remembered no more." They conspire, plot, and form an alliance in secret with this goal in mind.
This is exactly what happened in 1967. In the years and months leading up to the Six-Day War, the Egyptians and Palestinians in particular had been provoking Israel with blockades and terrorist attacks. This culminated with a defense alliance between Egypt and Jordan in May 1967. Iraq and other Arab nations were soon involved and amassing forces for a grand invasion of Israel.
The following quotes from key Arab leaders in the run up to the war are demonstrable evidence that their hearts and minds were in accord with Psalm 83:4:
March 8th 1965
We shall not enter Palestine with its soil covered in sand, we shall enter it with its soil saturated in blood.
- President of Egypt, Gamal Abdel Nasser
Feb 22nd 1967
It is the duty of all of us now to move from defensive positions to offensive positions and enter the battle to liberate the usurped land…Everyone must face the test and enter the battle to the end.
- President Attassi of Syria
April 8th 1967
[This battle will be] followed by more severe battles until Palestine is liberated and the Zionist presence ended.
- Syria's information minister Mahmoud Zubi
May 16th 1967
The existence of Israel has continued too long. We welcome the Israeli aggression. We welcome the battle we have long awaited. The peak hour has come. The battle has come in which we shall destroy Israel.
- Cairo Radio
May 17th 1967
All Egypt is now prepared to plunge into total war which will put an end to Israel.
- Cairo Radio
May 18th 1967
The Zionist barrack in Palestine is about to collapse and be destroyed. Every one of the hundred million Arabs has been living for the past nineteen years on one hope – to live to see the day Israel is liquidated…There is no life, no peace nor hope for the gangs of Zionism to remain in the occupied land.

As of today, there no longer exists an international emergency force to protect Israel….The sole method we shall apply against Israel is a total war which will result in the extermination of Zionist existence.
- Cairo Radio's Voice of the Arabs broadcast
May 20th 1967
Our forces are now entirely ready not only to repulse any aggression, but to initiate the act ourselves, and to explode the Zionist presence in the Arab homeland of Palestine. The Syrian army, with its finger on the trigger, is united. I believe that the time has come to begin a battle of annihilation.
- Syria's Defense Minister Hafez Assad (later to be Syria's President)
May 22nd 1967
We want a full scale, popular war of liberation… to destroy the Zionist enemy.
- Syrian president Dr. Nureddin al-Attasi speech to troops
May 26th 1967
Taking over Sharm el Sheikh meant confrontation with Israel (and) also meant that we were ready to enter a general war with Israel. The battle will be a general one and our basic objective will be to destroy Israel.
- Gamal Abdel Nasser speech to the General Council of the International Confederation of Arab Trade Unions
May 30th 1967
The armies of Egypt, Jordan, Syria and Lebanon are poised on the borders of Israel … to face the challenge, while standing behind us are the armies of Iraq, Algeria, Kuwait, Sudan and the whole Arab nation. This act will astound the world. Today they will know that the Arabs are arranged for battle, the critical hour has arrived. We have reached the stage of serious action and not of more declarations.
- Gamal Abdel Nasser speech
May 31st 1967
The existence of Israel is an error which must be rectified. This is our opportunity to wipe out the ignominy which has been with us since 1948. Our goal is clear – to wipe Israel off the map.
- President Aref of Iraq
The collective Arab reasoning for the war was clear. It wasn't for land, spoils, or power. It wasn't for defense. It was for the express purpose of wiping Israel off the face of the earth.
The tents of Edom and the Ishmaelites,
of Moab and the Hagrites,
Byblos, Ammon and Amalek,
Philistia, with the people of Tyre.
Even Assyria has joined them
to reinforce Lot's descendants.
- Psalm 83:6-8
According to Bill Salus
, the people groups mentioned in Psalm 83 represent the modern nations of Jordan, Egypt, Syria, Iraq, Lebanon, and Saudia Arabia in addition to the Palestinians. Joel Richardson maintains the same list,
but excludes Egypt
. Most studies and commentaries I've found stick to these two lists, though Richardson's list is perhaps a bit too restrictive when it comes to the ancient territories of Amalek, Edom, and the Ishmaelites.
In any case, there is general consensus and it just so happens that the nations that came against Israel in the Six-Day War are exactly the same nations listed in Psalm 83:6-8.
The primary belligerents were Egypt, Jordan, Syria, Iraq, and Lebanon. These nations would account for Edom, Moab, Byblos, Ammon, Amalek, Tyre, Assyria, and the Hagrites.
These five modern nations were supported by the Palestinian Liberation Organization and Saudi Arabia's air force, which would account for Philistia and the Ishmaelites (see
here
and
here
).
Do to them as you did to Midian,
as you did to Sisera and Jabin at the river Kishon,
who perished at Endor
and became like dung on the ground.
Make their nobles like Oreb and Zeeb,
all their princes like Zebah and Zalmunna,
who said, "Let us take possession
of the pasturelands of God."

Make them like tumbleweed, my God,
like chaff before the wind.
As fire consumes the forest
or a flame sets the mountains ablaze,
so pursue them with your tempest
and terrify them with your storm.
Cover their faces with shame, Lord,
so that they will seek your name.
- Psalm 83:9-16
Israel had 100,000 deployed troops, 300 aircraft, and 800 tanks.
The Arab confederation had 240,000 deployed troops, over 950 aircraft, and over 2,500 tanks.
In other words, the Arabs had nearly two and a half times as many troops, and over three times as many aircraft and tanks. The face off was truly a David and Goliath story - the Arabs controlling an area of land the size of the European Union and the Israelis controlling a small sliver of territory the size of New Jersey.
The Israelis were outmanned, outgunned, and surrounded in every conceivable way, but their forces were more prepared, better trained, and defended by
One very powerful Deity
.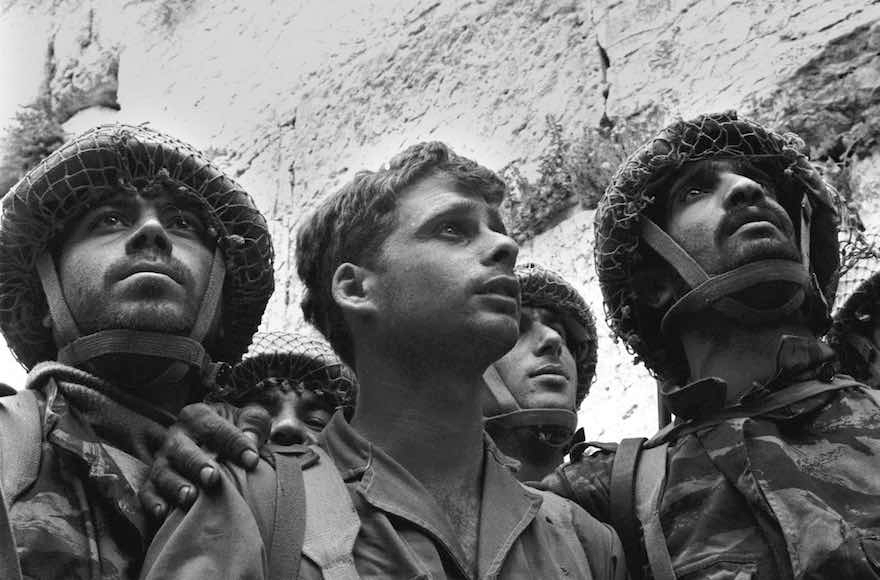 May they ever be ashamed and dismayed;
may they perish in disgrace.
Let them know that you, whose name is the Lord—
that you alone are the Most High over all the earth.
- Psalm 83:17-18
Through miracle after miracle, Israel won a decisive victory. Though nearly 1,000 Israeli troops were killed, some 10,000 Arab soldiers perished and Israel took possession of the Golan Heights, Gaza Strip, West Bank, and Sinai Peninsula. Most importantly, the Jews took back their ancient capital of Jerusalem, including the sacred Temple Mount (although on June 17, 1967 the Israeli government voluntarily gave the Temple Mount back to the Jordanian Waqf).
Arab forces withdrew in disgrace just as Psalm 83 prophesied and to this day Arabs call the war
an-Naksah
, "The Setback".
If indeed the Six-Day War was the prophetic fulfillment of Psalm 83 it is amazing that Psalm 83 coincided with Israel recapturing Jerusalem. That in and of itself shines a whole new light on the miracle of June 7th, 1967 and should wake us up to the fact that 2017 is indeed the
Jubilee of Jerusalem
.