Update On Temple Mount Situation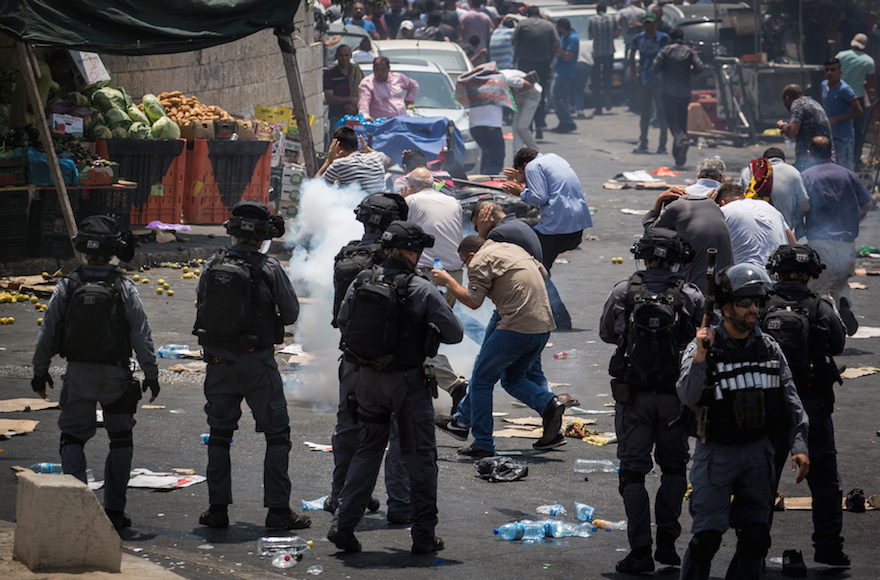 Friday (7/21):
The moment of truth has come and the Israeli government has decided to leave the metal detectors at the Temple Mount in place
indefinitely
.
No compromise was agreed to.
An unprecedented number of Israeli police have surrounded the Old City and massive riots have broken out following Friday prayers. Up to 200 people
have been wounded
in the clashes, including Israeli police, and two rioting Palestinians
have been killed
.
And now a
second
top official in the Israeli government has come out saying that the Temple Mount is now
in the hands of Israel
:
Israeli Transportation and Intelligence Minister Yisrael Katz (Likud), who serves as a member of Israel's Security Cabinet, on Friday said that the Cabinet decided to keep magnetometers on the Temple Mount and did not leave the decision up to the police.

'The Temple Mount is in our hands,' Katz said, quoting the soldiers who liberated Jerusalem's Old City during the Six Day War. 'We will not cede sovereignty. The State of Israel is responsible for preserving law and order on the Temple Mount... Contrary to reports, the Security Cabinet decided to continue using every security precaution which was begun immediately following the despicable terror attack, including the use of metal detectors. The State of Israel is responsible for implementing this policy.'
If you don't understand the prophetic significance behind what is currently happening in Jerusalem, please go back and read
our original article
.
In summary:
On Friday, July 14th, two Israeli police were gunned down by a Palestinian terrorist. The Israeli government responded by temporarily taking control of the Temple Mount and kicking out the Jordanian Waqf. The Waqf has controlled the Temple Mount since 1967, shortly after the
Six-Day War
.
After Israeli police took control of the Mount they did a full sweep of the area and found a number of weapons. Following the sweep they installed metal fencing, additional security cameras, and metal detectors at all entrances to the Mount. When the police reopened the Mount the Waqf immediately protested the installation of the metal detectors and called for a boycott until the metal detectors are removed.
As the week continued, news was circulating about the possibility that the Israeli government might back down and remove the metal detectors, but a decision was reached to leave them in place, which effectively (
de facto
) leaves the Israeli police in control of the Temple Mount because the Waqf is refusing to return.
As of today Israel has controlled the Temple Mount for seven days.
May 14, 1948:
The Jews get their country back.
June 7, 1967:
The Jews get Jerusalem back.
July 14, 2017:
The Jews get back the Temple Mount?
For your own sake I hope you are paying attention to the many prophetic things going on in 2017 (see
here
,
here
, and
here
). And I also hope
you are right with the LORD
.