Noah Galvin Drops Pedophile Bomb on Prominent Director
Noah Galvin triggered a fresh controversy after he gave an interview with Vulture.com wherein he casually stated that Director Bryan Singer (Superman Returns, X-Men: Apocalypse) "diddles" "little boys" at his pool, and laments the number of questionable homosexual men looking to sleep with the right person to become Hollywood actors.
Vulture magazine quickly removed the comments and Galvin himself later
walked them back
:
I sincerely apologize to Bryan Singer for the horrible statement I made about him in the interview I gave to

New York Magazine

. My comments were false and unwarranted. It was irresponsible and stupid of me to make those allegations against Bryan, and I deeply regret doing so. I have never been to Bryan's house, and I admit there is no basis for any of the things I said or implied about Bryan in that interview. I understand now that my statements were not at all funny and have serious implications. I am very sorry and I hope that Bryan and everyone else who read that interview can forgive me for my serious lapse in judgment. I have contacted

New York Magazine

and the other publications that republished my statements and asked them all to print this retraction and apology.
It seems to be a rather
open secret
that Singer has a predilection for young looking "men." According to Michael K. at Dlisted:
I first heard about Bryan Singer's "

infamous

" coke and twink pool parties when I was 18 and was at some party in Orange County that a bunch of dancers from Disneyland were at. One of the twink dancers bragged to me and my friends about how the weekend before he was at a party in L.A. that the director of Usual Suspects was at and the white twinks, coke and meth were falling from the sky. The twink dancer said that Bryan Singer and his fancy Hollywood friends always throw parties like that and when I asked him to take me to the next one, [@$@%] said, "

Uh, you're not white, skinny and cute enough, though.

"
Here's an example of the kind of "men" Byan Singer is allegedly interested in. On the left is model Frankie Donjae, seen here with his arm around the homosexual director: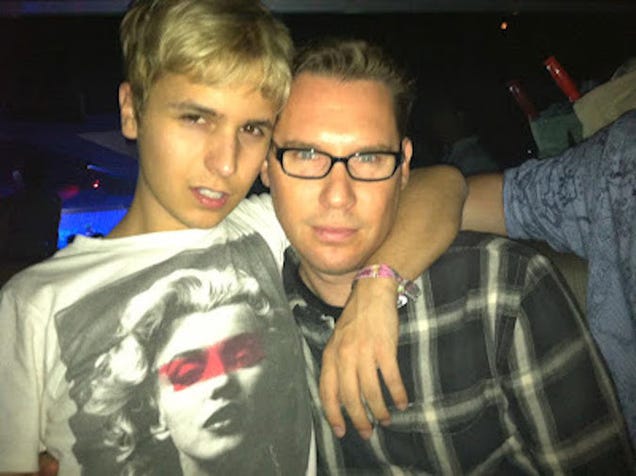 In 2014, Singer was sued by a man who claimed the homosexual director
raped him at a house party when he was 15 years old
. According to the alleged victim, young boys were plied with drugs and alcohol before being set upon by Singer and his associates.
Here are Noah Galvin's
original remarks
:
Yeah.

Bryan Singer likes to invite little boys over to his pool and diddle them in the ****ing dark of night.[Laughs.]

I want nothing to do with that. I think there are enough boys in L.A. that are questionably homosexual who are willing to do things with the right person who can get them in the door.